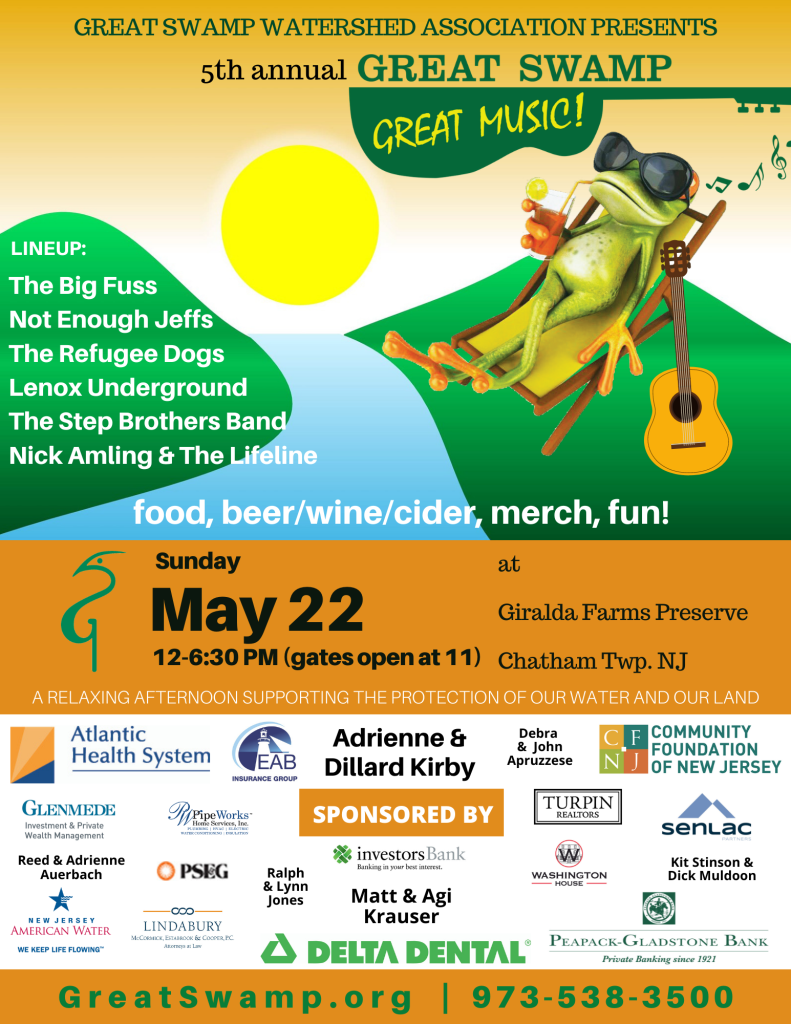 Morristown, NJ — Great Swamp Watershed Association (GSWA) will host their 5th annual Great Swamp Great Music festival on Sunday, May 22, 2022, from 12:00-7:00 PM (gates open at 11:00 AM with live music) at the Giralda Farms Preserve – minutes off I-287 in Chatham Township, New Jersey. Along with live music, festival goers can expect food trucks, adult beverages, merchandise vendors, and more at this family-friendly fundraiser.
"It's hard to believe this will be our fifth annual Great Swamp Great Music festival!" stated Val Thorpe, GSWA Director of Communications and event producer. "We have a tremendous lineup this year. These musicians, who are all generously donating their time and talent, are gearing up to deliver a top-notch day of music in support of clean water and a healthy environment."
Performing at the festival are three returning crowd-favorites and two exciting new acts. In order of appearance, the lineup includes: The Refuge Dogs, The Step Brothers Band, Lenox Underground, Not Enough Jeffs, and The Big Fuss. Nick Amling & The Lifeline will entertain those who arrive before noon and Nick will keep the music going between band sets. New to the festival this year, comedian, and New Jersey native, Max Antonucci, will emcee the event.
The organization will conduct a 50-50 raffle during the event – $10 for 10 tickets, $20 for 25 tickets. Proceeds will be split evenly between the winning ticket holder and GSWA in support of their mission. The ticket will be pulled towards the end of the festival. Winner need not be present to win.
All are encouraged to bring blankets or low-lying chairs to the festival grounds. Parking is free and plentiful. Online ticket ordering is encouraged. Adults: $30 ($35 at the gate) students: $20 ($25 at the gate) children 13 and under: free. For more information or to purchase tickets visit GreatSwamp.org. or call 973-538-3500.
"It has been exciting to see this highly anticipated event grow year over year," said Sally Rubin, GSWA Executive Director. "Thanks to our generous festival sponsors, we can continue to offer this popular day of music to the public in support of our mission to protect and improve the health of the Passaic River through science, education, land preservation and stewardship, and advocacy."